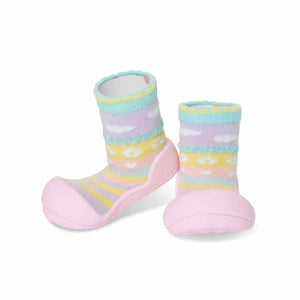 How to fit Attipas baby shoes on your toddler
Size Guide
Please use the below size guide when purchasing Attipas toddler shoes.
Download a copy of the guide (updated 2023).
Attipas 'Attibebe' range are part of the 2015 Collection and come in two gorgeous pastel tones. We love our Pink Attibebe baby girl walker shoes, with soft pastel colourings of pink, purple, aqua and yellow, teamed with a perfectly pink sole. Attibebe blue shoes are also super stylish with their soft blue soles and delicate multicolored shades.  
Highly durable, Attipas Attibebe toddler shoes are the perfect choice in baby shoes, be it for a gift or for your own little one! Attipas are a world first in baby girl shoes! As light as a sock but more supportive than a pre-walker shoe, these functional shoes ergonomically support toddlers' first steps and thereafter.
Attipas shoes were launched in 2011 after 7 years of research and development, and are quickly becoming the number one choice in cute
first walker baby shoes
! Available in 16 cute styles and 6 sizes, Attipas shoes are 'Walking Science'. Attipas were developed based on seven years of studies at the Seoul University in South Korea. Recently, Attipas infant shoes were endorsed by a leading Australian podiatrist; for more information visit our recommendations page:
Attipas Baby Shoes Size Guide
| | | | |
| --- | --- | --- | --- |
| Size | Length (mm) | Age (Approx.) | Size (US) |
| Small | 108 mm | 0-12 months | 3.5 |
| Medium | 115 mm | 12-18 months | 4.5 |
| Large | 125 mm | 18-24 months | 5.5 |
| X-Large | 135 mm | 24 months | 6.5 |
Washing Instructions:
Attipas baby shoes are fully machine washable to 30 degrees celcius. When washing and drying, please use a laundry net. Note to maintain the quality of the fabric, hand wash and air-dry is preferred.
Materials
External Textile (%)
Cotton: 80%
Spandex: 17%
Rubber Yarn: 2%
Polyurenthane Yarn: 1%
Outsole (%)
TPR: 100% (Tested Non-Toxic Products)